Celebrate National Lasagna Day with a Summer Time Twist
Fresh fruits and vegetables are at the fingertips as summer ripens the day and the produce. Summer time cooking is the time to take advantage of the fresh ingredients the season brings. With July 29th being National Lasagna Day, what better way to celebrate than with fresh Summer Time Lasagna?

Most people can agree that lasagna is delicious but heavy. Summer time lasagna takes a fresh new twist to an old favorite that will bless the taste buds without blessing the waist.


Summertime Lasagna Recipe:
Ingredients:
1 pound of ground beef
½ cup of chopped onion
½ cup of chopped green bell pepper
¼ cup of finely chopped carrots
2 cloves of minced garlic
1 fifteen-ounce can of tomato sauce
½ teaspoon of dried oregano
½ teaspoon of dried basil
Salt and pepper to taste
5 medium zucchinis, sliced lengthwise into ¼-inch thick strips
1 cup of cottage cheese
1 egg, beaten
¾ cup of shredded mozzarella cheese
¼ cup of grated Parmesan cheese

Directions:
Preheat oven to 350 degrees.
Lightly grease a medium baking dish.
Over medium heat, cook the ground beef in a skillet until evenly brown.
Drain the juices from the beef.
Mix the onion, green bell pepper, carrots, garlic, and tomato sauce into the skillet.
Season the mixture with the oregano, basil, salt, and pepper.
Bring the mixture to a boil, reduce the heat to low and simmer for ten minutes until the vegetables are tender.

In the bottom of the prepared baking dish, layer half the zucchini strips.
In a mixing bowl, beat together the cottage cheese and the egg and spread over the zucchini.
Scoop half the beef mixture over the cottage cheese and egg mixture and sprinkle with half the mozzarella cheese.
Continue to layer with the remaining zucchini, beef mixture, and mozzarella.
Top with the Parmesan cheese.

Bake for forty-five minutes.
Let lasagna sit for ten minutes before slicing to serve.

In order to have the best results when preparing this dish, use fresh vegetables to create a crisp summer time taste. If possible, try to shop at a local Farmer's Market or vegetable stand. The fresh taste of summer can only be attainable through fresh ingredients.

Continue to reach for that fresh taste in the entire meal. Summer Time Lasagna is best served with a fresh green spinach salad with ripe red tomatoes, light tasting balsamic vinaigrette and crisp croutons. Purchase some nice green spinach and fresh tomatoes while shopping for ingredients. Top with homemade dressing and croutons for a crisp fresh finish to a delicious meal.


Balsamic Vinaigrette Recipe:
Ingredients:
4 tablespoons of balsamic vinegar
1 pinch of salt
1 teaspoon of Dijon mustard
2-4 tablespoons olive oil
1/4 teaspoon of garlic powder
Sprinkle fresh ground black pepper to taste

Directions:
Combine all the ingredients in a plastic container with a lid.
Shake vigorously until the ingredients are combined.
Taste and adjust the seasonings if needed.
Immediately shake the mixture again before using.

Another great thing to pair with this summer time feast is warm fresh pita bread. While shopping at the local Farmer's Market, check out the homemade bread selection or visit a local bakery in town. Add olive oil with fresh basil for the finishing touch.

Never skimp out on dessert. The perfect finish to Summer Time Lasagna, crisp salad and warm bread is fresh strawberries with cream. While shopping for ingredients take a quick look at the fruit section and pick out some juicy strawberries. The light sweet creamy dessert will be the perfect end to a perfect meal.

Vanilla Whipped Cream Recipe:
Ingredients:
1 cup of heavy cream
¼ cup of sugar
1 tablespoon of vanilla extract

Directions:
Place the cream, sugar and vanilla in a large mixing bowl.
Use a hand mixer to beat the ingredients together until stiff peaks are formed.
When the mixture is completely blended, serve as desired.

Prepare Summer Time Lasagna, along with other side dishes, and wow guests as they taste the summer freshness that has been captured inside every dish.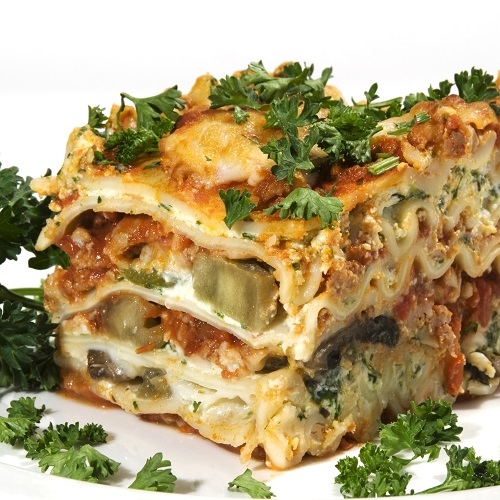 Back to Blog